Magnus Forex robot is a new automated trading solution the claims to be the most profitable on the market providing constant profits. This robot is currently featured on a few different website so it decided to take a closer look myself.
Today I'll be providing a review in finding out if this new expert advisor has what it takes to become a long-term investment opportunity.
Magnus Forex Robot Review
The developers of the Magnus Forex robot first introduce us to automated solutions and their importance in a trader's Arsenal. They explained to us that really successful traders spend 8 hours or more per day staring at computer monitors and analyzing patterns to figure out when to trade and they believe that this is a life, it's a prison. They feel this is one of the main reasons why Forex robots are important and why they are automated system can give you the free time you desire.
The Magnus Forex robot will analyze and recognize patterns, trade for you, avoid trading when dangerous criteria are met and ensure small consistent gains. The developers then don't want to tell us about how only 5% of all Forex traders make money and beginners often fail because they don't have knowledge, strategy or consistency which their robot can provide. The strategy of the software is not discussed much because the sales page seems to be for new traders that are aware of Forex much at all. This software trades on the 15 minute time frame on 4 different pairs, EURUSD,GBPUSD,EURGBP and AUDUSD.
Developer Results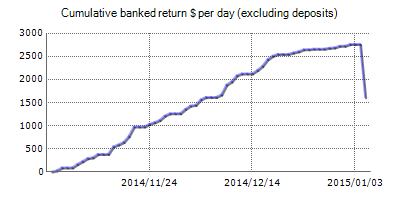 At this point in time I am not willing to give the Magnus Forex robot my personal recommendation. I did learn very much from the sales page but I do believe there might be some promise here. They do have some live results on FX blue which shows their software take a $2500 deposit and double in the first month of trading. This is obviously a very small sample size and it is the reason why I cannot fully invest in this system right now. This is however going to be put on my watchlist so that I can see how the system continues to perform as you move into the new year and then consider if it is worthwhile for myself and the Forex robot nation readers. If you want to leave a comment please do so below this article.