Today I'm reviewing an automated MT4 EA that launched in mid-2014, and continues to generate interest in the Forex market, Best Scalper. The software is built to provide traders with a low risk tool that will steadily build accounts over time. With White a bit of bravado, it'll be interesting to see if I truly find this to be the best scalping strategy on the market, because scalping is my expertise.
It is unknown who the developer of this software is, but we do know that they are located in China. Before signing up, I always recommend traders contact support to see how helpful and responsive they are. If you would like to take my advice, you can email the support team via support@bestscalper.com.
Best Scalper Review
I'm not very happy with the presentation of the Best Scalper EA. To start, there is no information about the creators of this software, which makes me nervous and unsure of the opportunity right out of the gate. Then, there is no real information or details about the scalping strategy. In fact, there is really no information about the product whatsoever, we just have to rely on 3 to 4 sentences and a bunch of Myfxbook accounts.
While I do appreciate the thorough testing that the vendor is doing of their MT4 EA, I really need much more to go on. Historically, when dealing with developers that can't or won't provide real detail on their sales pages, it doesn't go well. I'm not saying that this is certainly going to be the case this time around, but it is something that we have to be cognizant of moving forward.
From what I can gather by analyzing the trades, the software is attempting to pick up very small wins in short periods of time. This is a normal scalping strategy, but in most of the trades, the PIP target is a little low for my liking. When scalping, the lowest target I want to deal with is around 5 pips, because anything under this starts becoming heavily influenced by the broker spread.
Breakdown
Type: Forex Robot
Price: $258/License
Strategy: Scalping
Timeframe: M15
Pairs: EURUSD, GBPUSD
The Best Scalper EA is moderately priced at $258, with a multiple license purchase going for $368. Each of these licenses provide traders with free unlimited demo accounts, free updates and a 30 day money back guarantee. Depending on the scalper, it's sometimes difficult to rely on in money back guarantee because there are many scalpers that will win for months on end before running into problems.
I'm currently trading 2 different scalpers, and they both use advanced technologies to make for very small draw downs. These systems are Forex Fury and Forex Steam, the #1 and #2 ranked robots here at Forex Robot Nation.
Trading Results
The most interesting part of this review, is going to be the trading results. The Best Scalper vendor does very little talking, and seems to want to let their Myfxbook results tell the story for them. There are currently 10 accounts running the software, so I'll try and take a look at a few of them and let you know my thoughts.
The first thing I notice with all the accounts, is that the pips gained total is quite small, and that many of the accounts aren't even active anymore. In fact, only 3 out of the 10 accounts are actively trading in 2017. The majority of accounts are old, and were traded in 2014 or 2015, so they offer very little help to us.
The trading privileges are not verified for any of these accounts.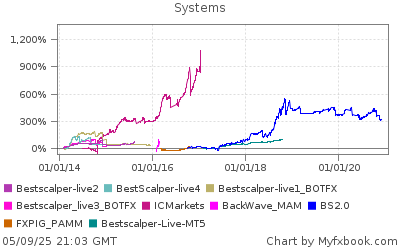 Out of the 3 active accounts right now, there is the BS2.0 account, the Bestscalper_IC account, and the Bestscalper-Live-MT5 account. The IC account is showing a 70% drawdown, with a loss of nearly 10%. The MT5 account is showing a gain of nearly 50% with a miniscule drawdown of just 3%.
The account I will be focusing on is the BS2.0 account which is showing a gain of nearly 68%, with a drawdown of 33%. This account has been running for approximately a year, and has pretty much been carried by an extremely strong June where the software made just over 60%. Outside of this month, the EA has had losing months at -9%, -26% and winning months anywhere between 4% and 7%.
There is certainly potential here, but with all of these different accounts, and the lack of consistency, there is a lot of confusion and misdirection.
Conclusion
It's still really hard for me to say whether or not the Best Scalper EA is truly a long term winner. The majority of the accounts being provided by the vendor haven't been allowed to run since the EA's creation date. What I really would have liked to have seen, would be one of the original accounts running all the way up until today. Instead, the accounts are always stopped after year, or a few months. I'm not sure if this is because the vendors believe that these accounts are due to crash and they are avoiding something, but these are answers I would like to have before making a recommendation.
Please let me know what you think about this EA, and if you have tested it yourself, let us know how it works.
Pricing

Strategy

Results

Client Feedback

Support
Summary
Best Scalper EA is a Forex robot that relies on quick, responsive trades.
Comments Rating
( reviews)
Cons
High price
Many inactive trading accounts